Cosmonauts!
It has been a busy while since our last blog and things here at Psychedelic HQ have been decidedly hectic. For one, some manner of futuristic dog has laid digital eggs in our foyer and we're not sure what to do about it. We've decided to just cordon the area off and not think about too hard about it.
What you see here is one of the last copies of Issue 2 available sitting in
Orbital Comics
in London - not sure if it's still there since this photo was taken last month but visitors to this time period may find this an opportune moment to go and seek it out!
The biggest news since the last blog has to be the
LAUNCH OF ISSUE 3
- with a beautiful cover by illustrator
Carl Pearce
it is crammed full of the uncanny and extraordinary. We'll be doing a few conventions this year, keep an eye on our
FB page
or
Twitter
for the first announcement
VERY SOON
but if can't wait or can't attend any the physical issue can be bought online over on
Comicsy
here:
http://www.comicsy.co.uk/crazyfoxmachine/
We've already got our first review from the wonderful
Steve Hargett
over on
his review blog
- which gives you a full run-down of exactly what's in there and who's done what! If any reviewers fancy a PDF to peruse give us a shout
via the magic of e-mail
.
Here's the first of three new(ish) teasers for the third issue - "Event Horizon" is a dark psychological tale written by Bristolian and Journal newcomer
Mike Scrase
who has been regularly putting out his Adventures of Zip webcomic (also ask him about curious Pokemon-Marvel mashup "Thorlax") and illustrated by the brilliant
Matt Herbert
(Journal #1 - "Thinking Outside the Box" written by Rich McAuliffe)
who has been blowing the socks of
Zarjaz
readers for the past few years with his fantastic takes on 2000ad regulars. His Shakara from Issue 17 is EXTRAORDINARY.
"The Film Theory" is written by Argentinian script machine
Blas Bigatti
(Journal#1 - "Karma Traveller" illustrated by Andrew Scaife) who also has a story coming up the next issue and illustrated by the mysterious
Mark Herstal
who is new to the Journal....
Finally "The Terminal Solution of Alan Smith" by writer and musician
J.S. Adams
(Journal #2 "The Clockwork Queen" illustrated by Dave Thomson) and brilliantly drawn by Journal newcomer
Jim Lavery
who seems to be more comics than man and caught our eye doing a succession of very good
Futurequake
stories.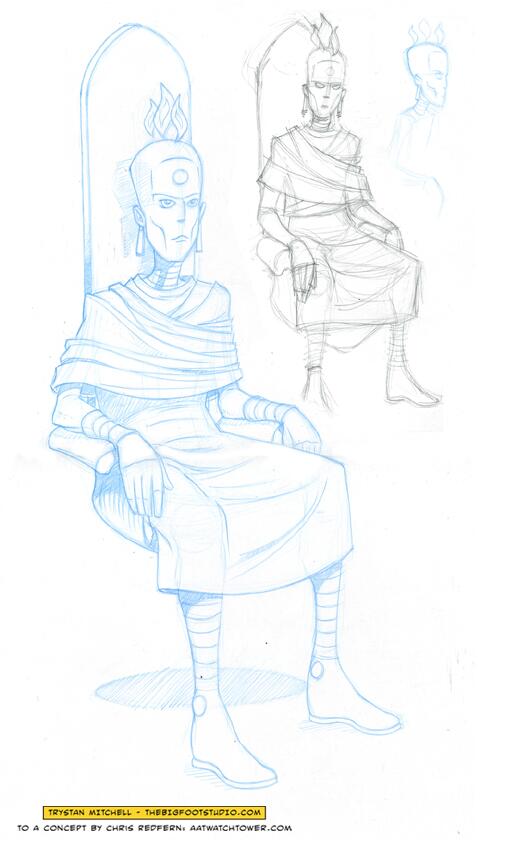 Looking much further ahead to next year's
issue 5
we seemed to have started a creative fire between
Chris Redfern
(writer on Issue 3's "Primitive Possibilities" illustrated by JT Pegg) and
Trystan Mitchell
(previously seen in the second Dr WTF) - above is an early concept image. Keep an eye on their respective twitter feeds for more soon I expect. 2015 is looking brighter by the day!