Cosmonauts!
Above you see co-editor Geoffery Crescent and a TINY 2D WOMAN TRAPPED IN A BANNER manning the table at Lakes International Comic Art Festival in Kendal. It was a wonderfully organised and passionate new convention and the punters were in their element. Sales were very slow but everyone was friendly and we met lots of luvverly folks. Special whale of Lakes appreciation to the following people SOME OF WHOM will also be at Thought Bubble at the end of November so take heed:
Nich Angell, Jon Lock, Ali White & Lucy Brown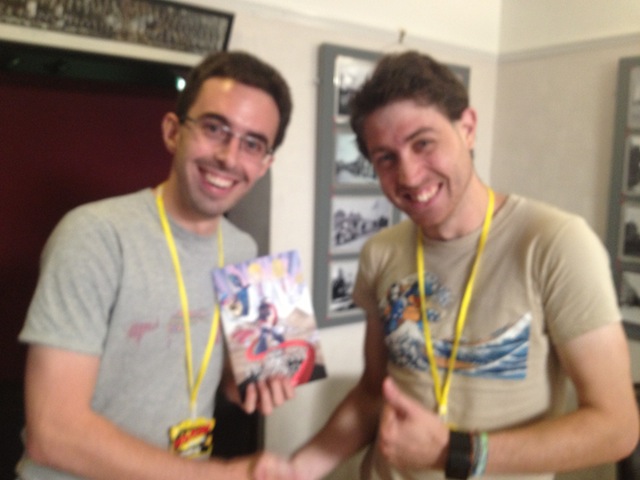 Lock & Angell Pictured here looking blurry and grinny at Melksham earlier this year (where they launched a crossover book known as
The Heavenly Chord
) - these four folk are responsible for housing and transporting Geoffery and I over the weekend and we're eternally grateful to them for that! More importantly they also pump out fiercely amazing comics - Nich with
7String
, Nich and Ali with
Cat & Meringue
and Jon Lock's
Afterlife Inc
. The small press scene would be a horrifically barren place without them and their blurry grinning.
Disconnected Press
Liz & Conor Boyle of Disconnected Press were debuting the superb-looking
Disconnected Vol 3
at Lakes and the cover alone by artgod
Kev Levell
would have been incentive enough - but just opening the cover you are bombared by the singularly amazing art of
Verity Glass
and I had to buy it and run off and lock it in our time egg for safe keeping.
We were fortunate to be sat next to
Mal Earl
- whose glorious art filled our eyes and who put up with our increasingly strained banter as the weekend rolled on. He was selling
Bound
as seen above as well as copies of his pulp fiction project
Bulletproof Nylon
. The man is a bonafide genius and I hope we see him at more cons in the future - !
Sitting the other side of us was the phenomenal Ivan Petrus - selling his debut graphic novel The Nieuport Gathering - a stunningly visualised tale of Belgium in the first world war. He was doing the most beautiful watercolour sketches in the front of each copy and it was positively mesmerising to watch. I snapped one up as well ... with a tank in it. You know a time travel story with one of those first world war tanks'd be bloody bloody lovely...
Bristol-based writer, photographer, painter and chap-of-glory Ben Dickson was there with copies of
Fight the Power -
a graphic novel about the history of protest by Ben and Sean Michael Wilson - featuring art from the legendary Hunt Emerson, John Spelling and Adam Pasion. It looks amazingly good so I snapped it up - !
A continued convention presence this year is that warm mug of David Lloyd who edits Aces Weekly - a weekly digital comics anthology with a refreshingly open mind. Within are some true small press kings as well as some interesting international talent. It's a damned good read and your editor is a proud subscriber.
Cinebooks
Again - you can't beat a lovely European graphic album - and the Cinebooks table was lined with all manner of beautiful products. Seriously, if one could eat comics legally in this country I'd have a feast - but alas, when will the laws change?!
Another happy convention face is that of Garen Ewing - creator of the captivating Rainbow Orchid. Despite the lack of time travel (when will they learn?!) it's a thrilling volume and well worth your coins.
The big daddy of the Comics Clocktower was Owen Michael Johnson and his new book - the gnarly neon Raygun Roads looks to be the biggest psychedelic blast in the small press - definitely put this one on your want list!
Next convention up is Thought Bubble at the end of this month - keep an eye out of us and Journalfriends there!
"If only I could go back in time to read it again for the first time…"
Is a lovely quote from a recent review of Issue 1 by the brilliant Ari Carr which you can read here unfortunately as of Lakes weekend we've sold out of physical copies of Issue 1 but you can still buy digital version on Comicsy here! If you fancy reviewing either issue drop us a line at the usual address and we'll wing you a PDF!
In terms of getting a physical copy of Issue 2 our Comicsy store has them, we'll be at Thought Bubble or you can always pop into Orbital Comics in London where we amazingly have a few deposited:O
Keep an eye out in the coming weeks for some teasers for 2014's Issue 3...